Welcome to March! Coming in like a lion over much of the Northern Hemisphere, let's hope it goes out like a lamb! But we have plenty to keep us busy during this wild and volatile season.
March is Women's History Month. Women's history goes back as far as men's, but it has been officially recognized by Congress since 1987.
Learn about Women's History Month.
How much do you know about women's history?
Color some famous women. Do you know who they all are?
Many Americans of Irish origin love to celebrate St. Patrick's Day (March 17, 2014). Silly hats, green milkshakes, parades and leprechauns abound!
Visit Barbara's favorite sites about the Emerald Isle and its patron saint
Wiggle around a St. Patrick's Day word search
Throw a St. Patrick's Day party!
Color some shamrocks and pots of gold.
In the Northern Hemisphere, the days are getting longer. In the Southern Hemisphere, they are getting shorter. Wherever you are, the next time they are the same length is The Equinox (March 20, 2014).
Ever wonder why we have seasons?
Play a spring dress-up game!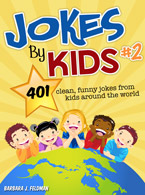 Jokes By Kids: Volume 2 includes 401+ clean, funny jokes from kids around the world. Now available in Kindle format. Don't have a Kindle? No problem! A free Kindle app can be downloaded for your computer, tablet, iPad, iPhone, Android or other smart phone. These jokes will be great fun for long car rides, the dinner table, the classroom, scout troops, birthday parties or anywhere family is gathering. And when you have Jokes By Kids: Volume 2 on your phone, you can whip it out whenever the occasion calls for a little laughter! Just $2.99 and available for instant download.
Enjoy those longer and warmer days, and we will see you on the Net!