Welcome to May! It's been a long winter – isn't it wonderful that your little one can now play in the grass and enjoy the sunshine? So much to learn in this wonderful world of ours.

May is such a busy month! In the Southwest of the United States, Cinco de Mayo (May 5, 2013) is a beloved celebration. Here are some fun things to do.
Cinco de Mayo Coloring Pages
Barbara's Picks for Cinco de Mayo Activities
Everyone loves Mother's Day (May 12, 2013)! Here are some fun things little ones can make for Mom or Grandma:
Mother's Day Coloring Pages
Easy Flowerpot Crafts
Homemade Mother's Day Cards
More Mother's Day Fun!
To kick off summer, we have Memorial Day (May 27, 2013) at the end of the month. For a quiet moment between barbecues and picnics, enjoy these activities:
Memorial Day Coloring Pages
American Flag Slider Jigsaw Puzzle
M is for Monkey, too!
Enjoy this time with your precious little one!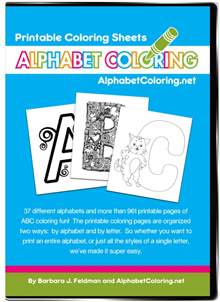 Ta dah! We have a brand new CD-ROM for sale called Alphabet Coloring. Amazon has notified us that all three of our boxes of CD-ROMs have arrived in their warehouses. It is a collection of alphabet coloring sheets, featuring 37 different alphabets and more than 961 printable pages of coloring fun. It is an easy way to get ALL the alphabets from AlphabetFun.net.
To kick start sales (and to rack up a few reviews!) it will be on sale for $13.25 until May 15th or their inventory runs out, which ever comes first.
Here's the link: Alphabet Coloring CD-ROM from Feldman Publishing. Won't you go take a look?