Welcome to May! Spring is mostly underway in the Northern Hemisphere, and your little one is enjoying every minute of it. Don't you wish you could recapture that sense of wonder at a ladybug or a fresh spring flower? Luckily we have plenty of wonderful activities for the two of you to share.
In honor of the arrival of spring and the redesign of the Surfnetkids Download Store, use the code HALFOFFSPRING to get 50% off a minimum purchase of $8. You can use the code on anything in the store, including lots of printable alphabet coloring collections, or Sudoku puzzles for older siblings. Do it today, as this code will disappear on May 8th.
Mother Goose Day (May 1, 2014) is just around the corner. What would childhood be without nursery rhymes?
Who was Mother Goose?
Mother Goose crafts are simple and fun.
Twinkle, twinkle, little star! [Video]
Enjoy some Mother Goose coloring pages!
Mother Goose websites recommended by Surfnetkids
You don't need to be Mexican to enjoy Cinco de Mayo (May 5, 2014).
What is Cinco de Mayo?
Try some Cinco de Mayo coloring pages!
A very important holiday in May is Mother's Day (May 11, 2014).
Create a Mother's Day handprint poem
Dress up Baby Aneu!
More preschool crafts for Mother's Day
Don't forget the Mother's Day coloring pages.
Did you know there is actually a National Backyard Games Week (May 19 – 26, 2014)?
Check out some great backyard games!
Is it raining? Here are some nature coloring pages.
Who doesn't love Goodnight Moon or The Runaway Bunny? Celebrate Margaret Wise Brown's birthday (May 23, 1910).
Who was Margaret Wise Brown?
This word search might interest an older sibling.
Sleepy yet? Here are some bedtime coloring pages.
Not into bunnies? Celebrate World Turtle Day (May 23, 2014).
All about turtles
Try a sea turtle jigsaw puzzle
Want to tell a turtle joke?
Turtle coloring pages are fun!
Finally, the summer barbecue officially starts on Memorial Day (May 26, 2014).
What is Memorial Day about?
Here are some Memorial Day coloring pages.
Enjoy the May holidays and we will see you on the Net!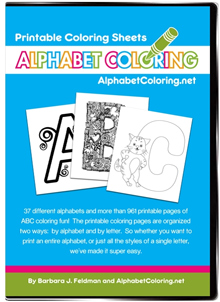 Alphabet Coloring – Printable Coloring Sheets
Fun alphabet coloring pages to print, color, and share! Print as many copies as you want. Great for teachers, parents, family get-togethers, long car rides and kids!
37 alphabets with more than 961 printable pages of ABC coloring on CD-ROM.
Organized two ways: by alphabet and by letter.
Print an entire alphabet, or print all the styles of a single letter.
Print as many copies as you want.
Easy-to-use PDF format.